Our Special Educators and Technical Staff Serving Students with Intellectual Disabilities and their Parent. The main role of the special education is to provide knowledge and support which facilitates the participation of students with Intellectual disabilities in the regular classroom.
A special school is a school catering for students who have special educational needs due to learning difficulties, physical disabilities or behavioral problems.Special schools may be specifically designed, staffed and resourced to provide appropriate special education for children with additional needs.
Enable each student to fully participate in the learning environment that is designed for all students and is shared with peers in the chosen educational setting
Provide a positive climate, promote a sense of belonging and ensure student progress toward appropriate personal, social, emotional and academic goals
Are responsive to individual learning needs by providing sufficient levels of support and applying student-centred teaching practices and principles.
At present 65 Children are rendering services at primary, Secondary & Vocational training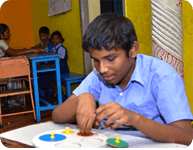 Hope special school for mentally challenged children had its humble beginning in 2003 with 3 children, 2 volunteers, and a special educator. Now the school caters to the needs of almost 70 children with 15 teaching and non-teaching staff members. Owing to the financial constraints it operates in a small rented building with basic facilities. The dream is to operate in an own building with spacious rooms, play areas and necessary infrastructure.
Special Education
Practical math
Activities of daily living
Special facilities for CP children
Yoga/ Meditation/ Physical training
Physiotherapy
Speech therapy
Occupational therapy
Sensory integration & Counseling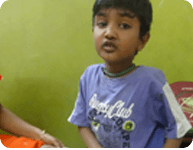 Prasana is 9 years old. He was diagnosed of ADHD with speech impairment. He was not able to utter a word even for food and water. He was admitted into Hope Special School at the age of 4 and improved in speech. Now he is able to frame sentences, recite thirukural and sing. Also he has shown improvements academically.