Hope Public Charitable trust is a Non-Governmental organization, active since 2007. Headquartered at Chennai, India, we strive to address the needs, living conditions of the intellectually challenged community, which is one of the most marginalised in our society. HOPE strives to improve the living conditions of challenged community by providing Special Education, Vocational training and Rehabilitation services for the intellectually impaired, and Special needs children and adult .
HOPE focuses on the empowerment of marginalised and destitute women through various skill training programs.
Our logo symbolizes "Hope" which is "Humanitarian organization for people's Empowerment".
Hard Work Break Hurdles and She Sets Example Through Her Exemplary Work.
Growing up, she had to contend with her brother, a special child, struggling to cope. Her family did not have the resources or the platform where he could develop life skills to integrate into society.
People with disability or those who are differently abled, should enjoy a life with dignity and respect. She understood that early intervention helps in mainstreaming special children, and help place them appropriately in schools.
The greatest impact on such children would be if mothers were trained and empowered.
If such children are abandoned, how much can the State take up their responsibilities without active support of the civil society?
How to make such early intervention centres accessible to the poorest of the poor and the underprivileged?
These are the basic tenets which started Dr Nagarani's dedicated journey into a life of public service, as a social entrepreneur, towards HOPE.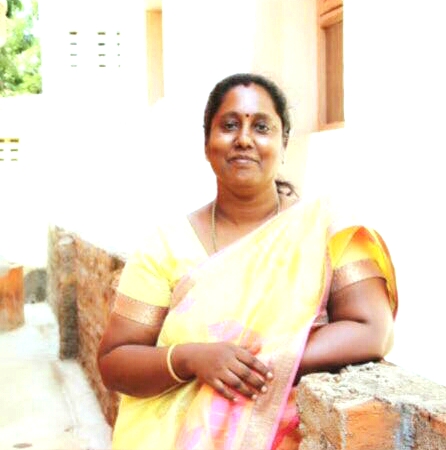 To serve as a CATALYST to uplift the LIFE STYLES of the under privileged, socially neglected, mentally challenged and those who live below poverty line with special emphasis on women and children.

"Promoting the living conditions of the target community by a comprehensive service to develop their values, skills and talent's through self-learning and participatory programmes". Working collectively to promote the welfare and interest of the under - privileged, socially neglected and the marginalized people through joint actions programs like special education, vocational training, Skill training, therapy, Orientation programs and self employment.
Hope Public Charitable Trust, registered under Trust Act 1882, vide Regd. No. 1125/2007.
Income Tax Act 1961, CIRCULAR NO. 7/2010 F. No. 197/27/2010-ITA-I Dated 27-10-2010.
Foreign Contribution Regulation Act, 2010 vide Regd. No. 075901250.
U/S 12AA of Income Tax Act 1961, S.NO 494/07-08.
PAN CARD – Hope Public Charitable Trust- AAATH7141M.
Special School is recognized under State Commissioner for Differently Abled and is registered under PWD act 1995 vide. No SS.234/2016.
Care and protection centre for mentally retarded with vide No. 583/2014 is registered under Corporation of Chennai by the direction of Honorable Supreme Court PUCL vs. UOI and others W.P (Civil) NO. 196 OF 2001.
Early Intervention Centre for Multi Disabilities (0-6 years) @ Ambattur and Early Intervention Centre for Autism @ poonmallee Recognized by the State Commissioner for the differently abled Chennai.
Engagement of Hope Public Charitable Trust towards the Community Intervention Program for COVID-19 proceedings of the Joint Commissioner (Health) Greater Chennai Corporation. Public Health Department – order of the Commissioner H.D.C.No.B2A/SUH/2281/2020 dt:18.05.2020 .
Identify and build resources necessary for Research and Development to offer training, expertise and professional service in the fields of Child mental health.
Elevating to a status of "Nodal Agency" with professional excellence.
Establishing a centralized office with own building with the necessary infrastructure facilities
AWARDS OF HONOURING PROGRAMMES RUN BY HOPE PUBLIC CHARITABLE TRUST
Dr.V.Nagarani Managing Trustee of Hope Public Charitable Trust has Received 2020 Indywood Excellence Award for Innovation in Special needs Education from Honorable Academician of Delhi Government .
"N S HEMA MEMORIAL AWARD" function held on 04.10.2019 and the Acknowledgement certificate was received by Dr.V.Nagarani, Managing Trustee of Hope Public Charitable Trust, Chennai, TN,india .
Dr.V.Nagarani – Managing Trustee has received "HONORARY DOCTORATE" presented by Universal program from Hon'ble A.Ganesh District and session Judge (Rtd) Former, Prosecutor CBI on 21.09.2019
Dr.V.Nagarani Received "GOLDEN LADY AWARD" on 15.08.2019 from Rotaract Club of Pegaus for her dedication of Social Service rendered for Special Kids.
Dr.V.Nagarani Receiving

"LIFE TIME ACHIEVEMENT AWARD"

by Dr.Montek Singh Ahluwalia, Former Deputy Chairman, Planning Commission, New Delhi on 08.05.2019 at Hotel Savera, Mylapore,Chennai – 600 004.
Ooruni Foundation Working Women Achievers Award 2019 under the Special Category of

"SUPERLATIVE WOMEN LEADERSHIP AWARD"

received on 02.03.2019.
Received KUMARARAJAH MUTHIAH CHETTIAR AWARD for the Well run orphanage for the year 2018 on September 30 th .
FICCI FLO Women Achievers Award – 2017 - 2018