Care & Protection Centre for Mentally Challenged
Hope Trust started Care and Protection center for mentally challenged children. It is registered under Corporation of Chennai. It provides shelter for abandoned boys who are mentally challenged. They are identified and taken from streets, referred by child welfare centers, police station etc. in a very pitiable condition. We provide them care and nurture them lovingly by hearing their cries and comforting them to get over rejections, abuse and hardships. They are provided with good clothing, food, shelter, medical care, rehabilitation and vocational training to equip them with different self-help skill. We look forward for Public support and donations. The need for specialized care is increasing day by day and due to financial difficulties and space constraints we have accommodated only 40 inmates and unable to provide for more inmates.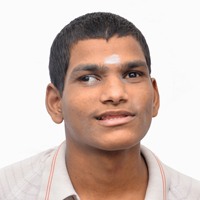 Bharath was 17 years old when he joined our HOPE family during the month of December 2015. We rescued him from marina beach with lot of injuries in his leg. We admitted him in the IMH and gave necessary treatment for more than a month even in the hard core situation of Chennai being surrounded by flood. He is not from Tamil Nadu and the name is kept by us. He had no proper verbal communication, and was weak. Through rehabilitation he has shown improvements in health and also utters single words.
As a full time social workerMathew K dedicates his work for providing therapeutic services to mentally challenged inmates who are abandoned by family, relatives and communities. He provides preliminary assessment and caters to the needs of the inmates. He is also responsible for organizing vocational skill training program for the inmates. He puts his learning into practices by empathizing with the inmates and makes the general public aware of the needs of shelter home.