OUR STUDENT VIGNESH A CHILD WITH AUTISM IS NOW ADMITTED IN A CBSC SCHOOL IT'S A GREAT SUCCESS IN OUR INCLUSIVE EDUCATION PROGRAM.
Inclusive education is about ensuring access to quality education espically for the children with intellectually disable by effectively metting their diverse needs in a way that is responsive, accepting, respectful and supportive. students participate in the education program in a common learning environment with support to diminish and remove barries and obstacles that may lead to exclusion.Inclusive education is carried out in a common learning environment to get equal opportunity.
Hope public charitable trust has a special centre named hope early intervention centre for children with Autism which helps children and young peaple with Autism to develop the skills they need to live happy,healthy and succesful lives.it can improve the quality of children's home lives and family relationship, increase educational attainment to impact in mainstream education system and support good mental health.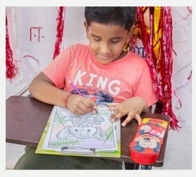 On behalf hope public charitable trust we like to express our hearty gratitude to GKF members. the dream would never have come true without the financial help of GKF. It is a great platform for 35 less privileged children children with Austism to help towards the road of success.